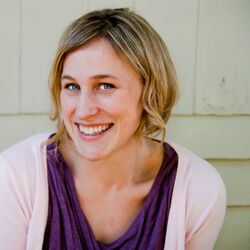 Pamela Ribon is a screenwriter, TV writer, comic book writer, author, and best-selling novelist (Why Girls are Weird, You Take It From Here). She's written on upcoming features for Walt Disney Animation Studios (Untitled Wreck-It Ralph Sequel (with writer/co-director Phil Johnston)) and Sony Animation Pictures (Smurfs: The Lost Village). In the comic book world, Pamela has written issues of Rick and Morty, and is currently creating both a graphic novel and a series for Oni Press. Her roller derby comic for Boom! Studios (SLAM!) premieres this November. NPR called her comedic memoir Notes to Boys (and Other Things I Shouldn't Share in Public) "brain-breakingly funny." She's been in comedy rooms for both network and cable television, most notably the Emmy award-winning Samantha Who?. Pamela has adapted her popular novels for both film and television, and developed original series and features for ABC, ABC Family, Sony, Warner Bros., Disney Channel and 20th Century Fox Productions. She was a narration consultant on the DisneyNature documentary Bears.
Pamela was an Oprah.com contributor, a flagship contributor to Television Without Pity, and a weekly columnist for the Austin American-Statesman. She's known as a pioneer in the blogging world with her successful website pamie.com, where she launched such viral essays as "How I Might Have Just Become the Newest Urban Legend" and "Barbie Fucks it Up Again," which led to #FeministHackerBarbie and a very tough week for Mattel. Her stage work has been showcased at the HBO US Comedy Arts Festival and she created the accidental international scandal known as Call Us Crazy: The Anne Heche Monologues.
A former Austinite with a BFA in Acting from the University of Texas, Pamela has been entered into the Oxford English Dictionary under "muffin top." That is not a joke. You can follow her @pamelaribon, where she somehow writes even more.